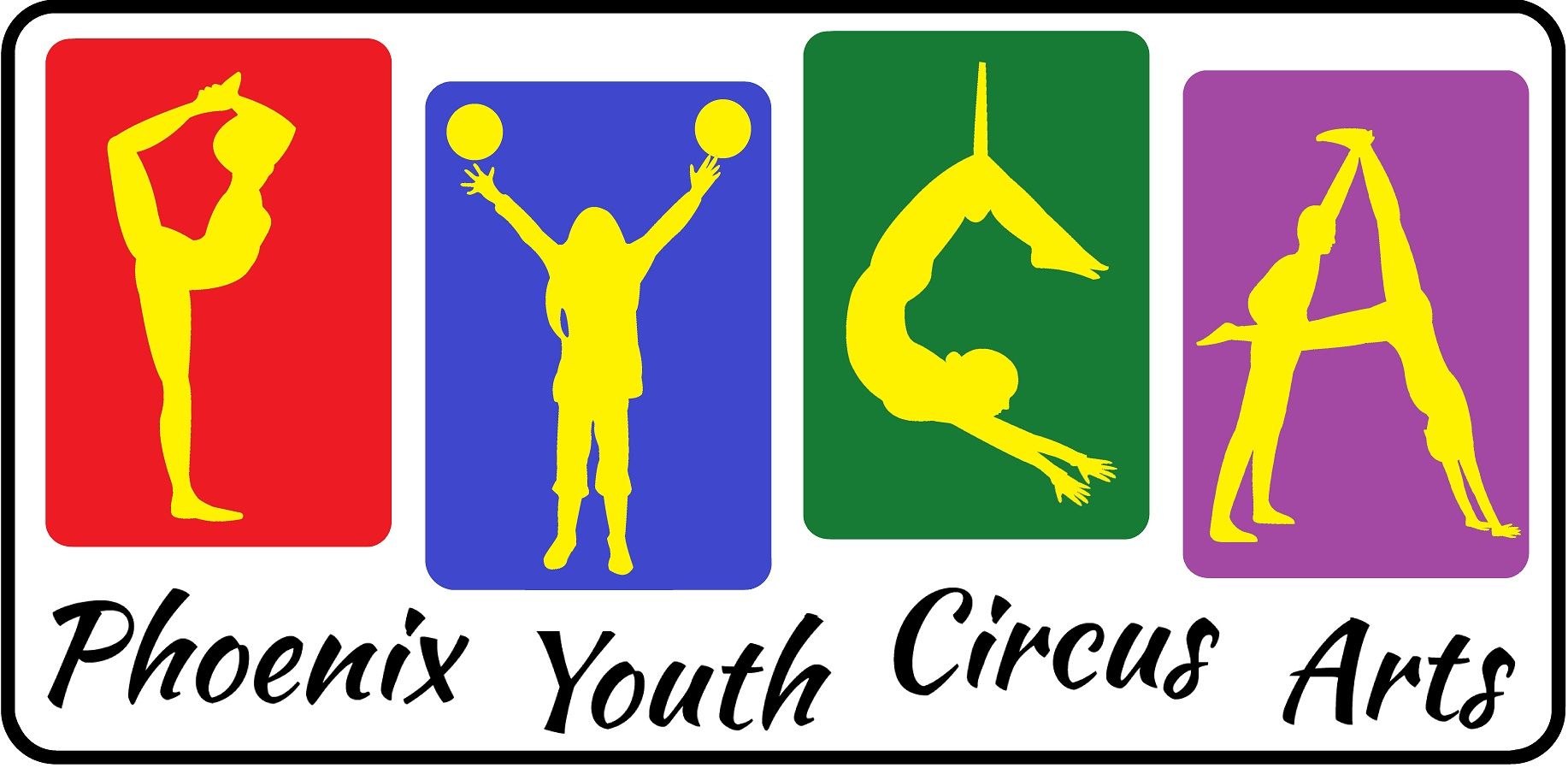 Phoenix Youth Circus Arts
(PYCA) uses the fun and creative world of circus arts to teach skills that build the mind, body, and self-esteem in children and youth of all ages, abilities, and backgrounds. Through the learning and performing of individual and group circus acts, students develop healthy bodies, confident spirits, and valuable capacities for cooperation and trust in a challenging, but non-competitive environment. PYCA strives to break down social and cultural barriers by engaging a wide variety of youth and children in the unifying pursuit of fun and beauty through circus. PYCA brings mats and other circus equipment wherever it is needed to teach skills such as juggling, balancing, acrobatics, and clowning at schools, recreation centers, and arts centers around the city. Whenever possible, a sequence of classes culminates in a performance. Circus is universally appealing – under its magic spell boundaries of language, culture, age, or class disappear. Through Phoenix Youth Circus Arts, students from different programs around the city will become part of a youth performing troupe that will bring this circus magic to the wider community through public shows and workshops, where they serve as a model for a more unified society.
Phoenix Youth Circus Arts

Donate via Credit Card or eCheck
Phoenix Youth Circus Arts FAQ
Is my donation tax deductible?
Yes, we are a fiscally sponsored project of Technical Assistance Partnership of Arizona , which is a public 501c3 organization recognized by the IRS. Your donation is tax-deductible to the fullest extent permissible by law.
WeDidIt FAQ
Is my donation and credit card info secure?
Yes, the security and confidentiality of your information is our highest priority. We will not sell, trade or share your personal information with anyone else, nor send donor mailings on behalf of other organizations, and we will only share personal information if you have given us specific permission to do so.
How do I know that my donation was made successfully?
You will receive an emailed receipt immediately after your donation is submitted and your credit card is processed. Your donation will also show up on your bank or card statement within 1-3 business days.
Do I get a receipt?
Yes, a receipt is sent to your email inbox once your donation is processed. Please be sure to keep a copy of your receipt for tax purposes. If you select a recurring donation, you will be sent an individual receipt each period when your donation is processed.
Is my donation private?
We will not share or sell a donor's personal information with anyone else, nor send donor mailings on behalf of other organizations.